ASM International Cleveland Chapter invites you to attend our Tuesday, January19th meeting via Ring Central. Meeting starts at 7:00 pm. Chapter Chair Dave Kovarik will do opening remarks, introduce our speaker and topic, with the presentation to follow.

The event is free. Please register and the link will be emailed to you in the registration confirmation email.
January Online Technical Meeting
Tuesday 1/19/2021
7:00 PM

Special Topic: A Forensic Investigation of Origin for the Image & Shroud of Turin Using Material Analytical Techniques
Guest Speaker: David Onysko

REGISTER HERE
Abstract:
The image on the Shroud of Turin has confounded the world for centuries. Despite the scientific community's best efforts, the Shroud defies complete understanding and has resisted repeated attempts toward an explanation of the image-formation process. It has been described as "acheiropoietos" (not made with human hands). It has been thought by some to have been formed by a process known as "flash photolysis". Still others believe the cause for the superficial image seen on the shroud's uppermost fibrils is the result of a yet-to-be-understood form of radiant energy. The image on the Shroud is seen by many as a "presence"; that etched upon its linen fabric, this enigmatic burial cloth reflects the image of a man with wounds from a flogging and crucifixion. Forensic evidence will be presented that are based within multiple disciplines, including:
Historical records and Biblical records

Photographic and holographic analyses

Material science characterizations

Microscopic analyses

Medical science: biology, anatomy, genetics

Geology

Botany
Speaker:
David Onysko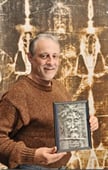 Bio:
David Onysko is a life-long resident of Cleveland, Ohio. In 1983, he earned a Bachelor of Science Degree from Cleveland State University with a teaching emphasis in health and physical education (K-12). In 1991 he earned a post graduate degree, also from CSU, achieving a Master in Education with an emphasis in curriculum and instruction. In 2012, after 25 years of teaching, he shifted his attention to something he has pursued since 1980…his continued interest in Sindonology (the study of the Shroud of Turin).

Over the years, David's interest in this enigmatic burial linen has led him to many scientific/theological conferences (St. Louis, Rome, Dallas, New York, Virginia, etc.). He has spoken to thousands, including international audiences. In April 1998, prior to the World Exposition to follow, David and a world-wide press corp viewed the Shroud during a private 45 minute showing. In August 2000, David and his family traveled to Turin, Italy to see the image during the Shroud's Jubilee Exposition. He has been presenting the continuing story of the Shroud of Turin since the late 1980s.

In October 2015, David participated in an archaeological dig. While serving as a team member searching in the Hopkinsville, KY city cemetery for lost graves of confederate soldiers, he was startled to discover a cast iron coffin containing the remains of a Southern soldier whose identity was subsequently determined. An interesting news clip of this discovery can be viewed in the following link: https://www.youtube.com/watch?v=UXbSq14_BLQ

In 1999 David was inducted into the Westech High School Hall of Fame. He umpired high school & college (NCAA) baseball for fifteen seasons. He was selected as an umpire in the OHSAA State Finals. He was also selected to umpire post-season NCAA tournament assignments as well. He umpired in the independent professional Frontier League which, at the time, included the Canton Crocodiles, the predecessor to our current Lake Erie Crushers of Avon. He also served as an MLB Associate Scout for the Tampa Bay Devil Rays (1995-98) and the New York Yankees (1999-2001).