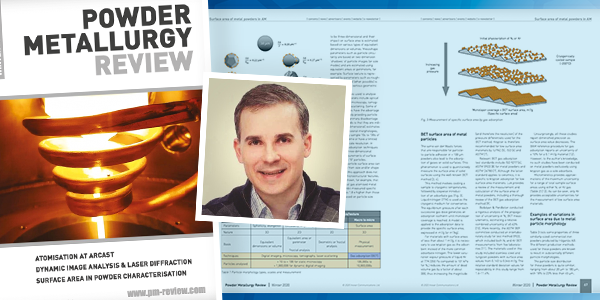 Dr. Dave van der Wiel, NSL's Director of Technology Development, wrote an article about "How Metal Powder Surface Area Influences Additive Manufacturing" that was published in Powder Metallurgy Review Magazine. Learn more about the article and about the highly-respected publication below. Then, contact us to speak with the author or another member of our team.
NSL Additive Manufacturing Article Preview
The surface area of particles in metal powders is affected by particle size, shape, roughness and porosity. Even spherical gas atomised metal powders exhibit surface areas much higher than suggested by their size. Dr. van der Wiel discusses this topic in his article in Powder Metallurgy Review Magazine. Plus, he also explains why the knowledge and use of powder surface area is a critical parameter in the metal Additive Manufacturing process.
About Powder Metallurgy Review Magazine
Powder Metallurgy Review is the international magazine for the Powder Metallurgy industry. Powder Metallurgy Review specifically focuses on developments in the global press and sinter Powder Metallurgy industry, including ferrous and non-ferrous components, hard materials, Powder Metallurgy high alloy steels, Powder Metallurgy super alloys, diamond tools and sintered magnets, as well as HIP/CIP and powder forging.
Published four times a year, the magazine is available as a free PDF download or through subscription for the print edition. Powder Metallurgy Review is published by Inovar Communications Ltd, based in Shrewsbury, England.
Read the Article or Contact Us
Read the article and please contact us if you would like to speak with Dr. van der Wiel. He would be happy to discuss the article with you or answer any questions you may have. Thank you!