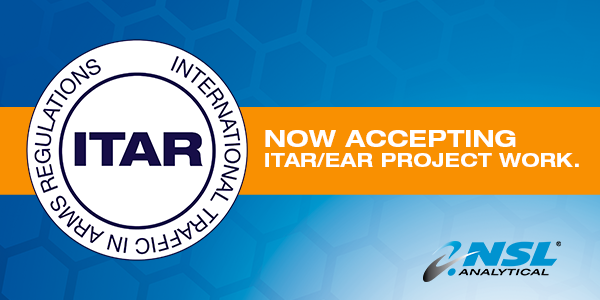 NSL Analytical Services, Inc. has registered with DDTC regarding the International Traffic in Arms Regulations (ITAR) and the Export Administration Regulations (EAR). NSL is now accepting projects subject to ITAR/EAR registration.
What ITAR Registration Means
The International Traffic in Arms Regulations (ITAR) regulates the sale, distribution, and manufacturing of defense-related items and services. ITAR registration is handled by the U.S. Department of State's Directorate of Defense Trade Controls (DDTC). The ITAR can apply to a wide array of defense-related products, services, and technical data, including weapons, armor, electronics, spacecraft, satellites, imaging systems, and much more. The United States Munitions List (USML) is the list of items under ITAR control, and currently consists of 21 different categories of products and data. This can include minor items such as spare parts, components, sub-assemblies, and accessories.
About EAR Registration
The Export Administration Regulations (EAR) generally covers everything else that is not controlled by the ITAR. It is governed by the U.S. Department of Commerce's Bureau of Industry and Security (BIS) and regulates commercial and dual-use items, information and technology not covered by ITAR, but still applies to some defense-related items. The Commerce Control List (CCL) is the list of items controlled by the EAR, consisting of ten different categories and five product groups.
Submit Your ITAR or EAR Project Request
While the ITAR and EAR are different in terms of their structure, controlled items, and administration, they both seek to protect U.S. national security by preventing the unauthorized procurance of controlled items. At NSL, we are committed to do our part to help protect national safety and security by appropriately handling ITAR/EAR controlled information.
NSL is proud to now be accepting ITAR and EAR project work. So, please complete this form to submit your request or inquiry. We will be happy to serve you.